Commission Info

Terms & Conditions Rough Pricing Contact Information
General Rules
Will Do: Will draw almost anything. Fanarts, OCs, OCs with characters from another series, furries (as for scalies, I admit I've never drawn one, but I'm super excited to try ᕕ( ᐛ )ᕗ let's gooo), NSFW, violence, gore, certain specific fetishes.
Will Do, with extra charge: Multiple characters / group picture illustration, detailed weapons and armors, complex machinery, details to the composition such as complex foreground and background.
Won't Do: Ideas I'm not comfortable with, such as some really specific fetishes or personal views on sensitive subject matters. Please do send me the details to your commission request, and I will let you know if I am willing to work on it.
Payment via Paypal / Jenius / BCA only. I will send an invoice to you and will start working on the commission once I receive the payment. You may discuss payment plans with me.
Updates: You may contact me about the progress of your commission at any time, and I'll get back to you within 24 hours.
Privacy: I often stream my work progress on Twitch. Please let me know in advance if you would rather keep your commission private. I won't stream while working on your commission and I won't upload the finished piece publicly.
Turnaround time: At the very least, please give me five working days to complete your commission. If I need more time for your commission, I will let you know and give you an estimation of the time needed. Please also let me know in advance regarding deadlines. As an estimation, I can finish a full body illustration in a month. If it involves complex character design and background or other process (e.g. cutting for puppeting / preparing a live2D ready-to-rig model), then it might take up to three months.
Revisions: Before line work, I offer major revisions up to three times. Changing the pose and altering the layout are considered major revisions. After line work is done, I cannot offer major revisions. If you insist, extra charges will be incurred accordingly. After coloring is done, the only minor changes I can offer you are color corrections and minor decorative additions to the picture. I may charge you for more revisions depending on how major the changes are / how many changes are made.
Terms & Conditions
As the commissioner, you may post / share / use and edit the commissioned piece.
Editing refers to cropping, resizing, filters / color corrections, overlays and superimposing additional text.
The commissioned piece belongs to the commissioner. However it may be used in the future is no longer my responsibility.
Please do not claim that you did the commissioned piece yourself. When possible, please credit "CAKWE" as the original artist.
Mass production of the commissioned piece without prior notification and agreement is strictly forbidden.
Rough Pricing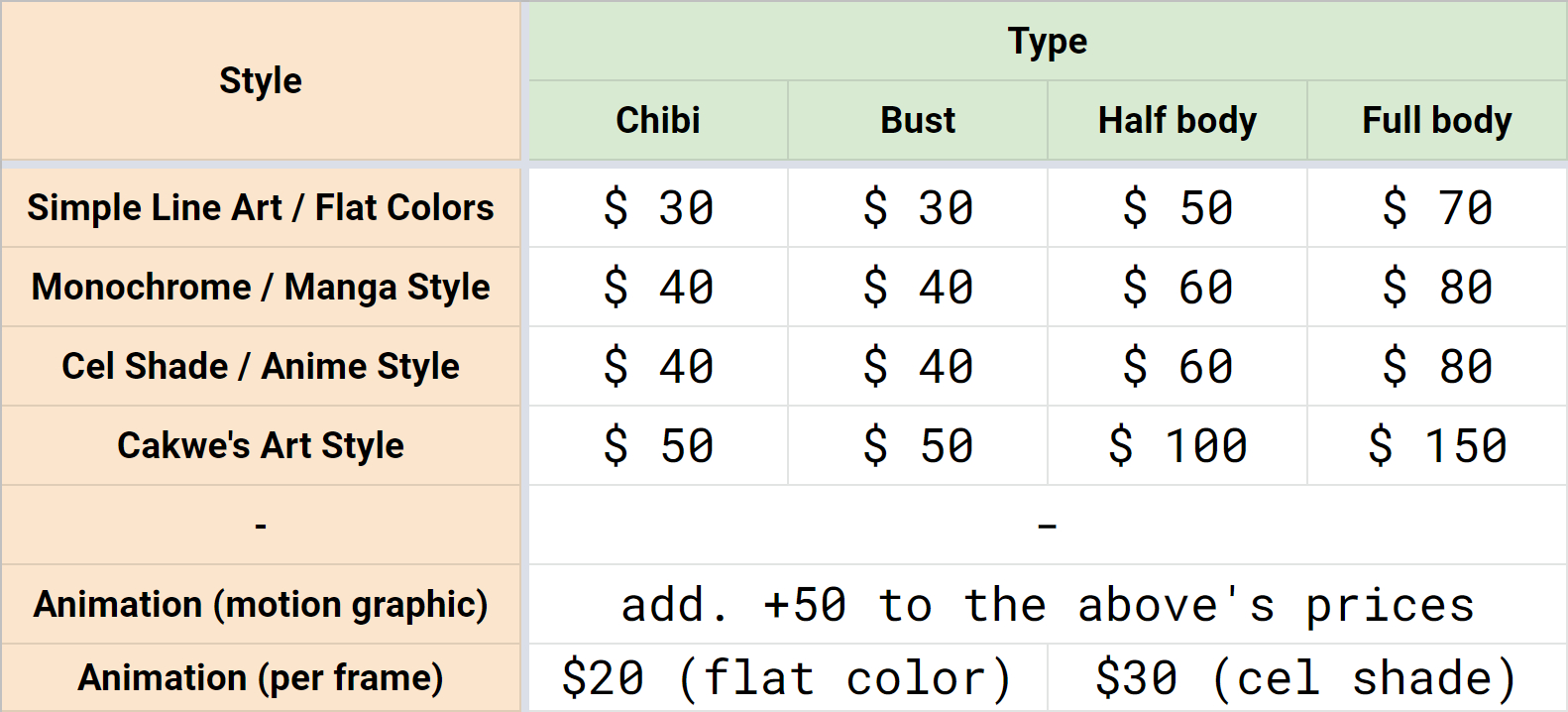 Note:
Price listed above is for personal and limited commercial usage. Please discuss your intended purpose with me.
Generally, using the commissioned artwork in a thumbnail / video / weekly schedule posts / stream decoration = OK
Price listed above is for one character with simple or no background.
Price may decrease or increase according to the simplicity / complexity of the character's design and environment.
For more than one character on the canvas, the pricing will be adjusted accordingly.
All payments are to be made in USD via Paypal or in IDR via Jenius / BCA (rate: $1 = Rp. 10 000)
Harga teman khusus ratenya $1 = Rp. 15 000 + terima kasih supportnya, temanku!
If you have any other inquiries, please do not hesitate to discuss pricing and payment plans with me!
Contact Information
E-mail cakweis@gmail.com Discord (most preferable) cakwe#6187 Twitter twitter.com/_cakwe Instagram instagram.com/cakwe
When contacting me about your commission, please include at least 2 of the following:
Description / sample image of the character(s)
Character's facial expression
Description / sample image of object(s) such as weapons or furniture
Sample poses and other object placement (even a stickman drawing really helps me)
Image description (what are these characters doing? overall mood of the picture? etc)
Other details, such as: additional markings, scar, tattoo, accessories or clothing detail, license plate on a car, etc
These details may be in writing or image. Please feel free to ask me if you have any further questions!